A new games provider, RedRake Gaming is now available for Australina and French players (only) at Spartan Slots, Box 24 Casino and Black Diamond Casino.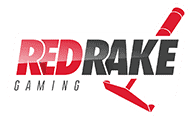 Try out the 5 games powered by RedRake Gaming.
Viva Las Vegas
A place where anything is possible!
Music, entertainment and much fun take place in this video slot which features 5×4 reels that will give you fantastic multipliers for any win that you get in the bonus round. The show must go on!
5×4 reels and 50 paylines
Heart gauge sidebar to build up FREE Spins
The Viva Las Vegas symbol becomes a Wild during the FREE Spins Bonus feature
The Asp Of Cleopatra
Relive Ancient Egypt
Egypt and its mysteries, its grand queen Cleopatra and the magnificent "Golden Asp" that will give you up to 1000 FREE spins!
5×3 reeels and 25 paylines
Asp which trigger "FREE Spins Bonus Feature"
Asp symbol acts as a wild during "FREE Spins Bonus Feature"
Wheel of Gods Minigame
Super 7 Stars
A welcome addition to the super 5 slots family
Take the proven playability and engagement of Super 5 Stars, and add a Wild Respin and a Lucky Roulette, and you have a winner!
Super 7 Stars Wild Respin
Golden and Silver "Super 5" Multipliers
Get up to 25 FREE spins with the Super 7 Stars "match-3" minigame
Roulette Bonus game with multipliers
5×3 reels and 30 paylines
Mystic Mirror
Shiny Magical Wins
Unicorns, a beautiful princess and a mystic mirror that is the key to success! Set in a wonderful land, this 5/6 x 3 reels video slot brings great fun to the players.
Scatter Wild Mirror symbol
FREE spins feature with Mirror symbol retrigger
Selectable 6th extra reel for bigger prizes
Magic Wilds
Become enchanted by the great magician who will transform your spins into incredible wins!
Night falls, a dense fog envelops the city, gargoyles start to come to life, and a mysterious magician emerges from the shadows of his mansion in order to enchant you with his dark, supernatural powers in this slot game with up to 5×8 reels.
Slot machine game with 5×4 reels and 32 paylines in Normal Mode and up to 5×8 reels and 100 paylines in the FREE Spins Bonus Feature
FREE Spins Bonus Feature with "Magic Reels" and "Hocus Pocus Scatters"
Astral Projection and Magic Wilds features