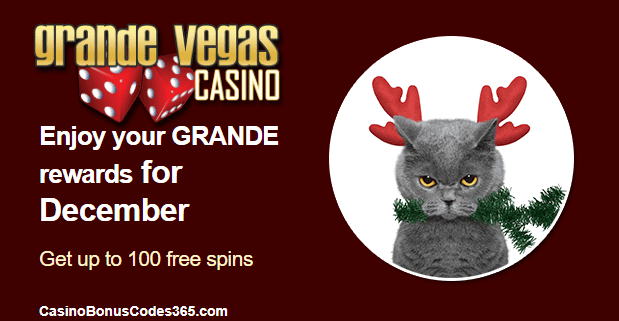 The Holiday Season Rewards at Grande Vegas Casino is extra LARGE. GRANDE!
You absolutely must take the Holiday Season themed slot game, "Swindle All The Way" for a spin.
Three fabulous bonuses and FREE Spins are waiting for you throughout December.



Claim all three for to have GRANDE chances of winning!
1.
100% up to $100 plus 25 FREE spins
on top for
Naughty or Nice
Coupon code:
GRDEC17-1
2. 100% up to $100 plus 25 FREE spins on top for Santastic
Coupon code: GRDEC17-2
3. 50 FREE Spins for Swindle All The Way
Coupon code: GRDEC17-3
Please note: You have to use Bonus 1 first, then Bonus 2 and finally Bonus 3 – in that order! You can not use bonus 3 first. This will not work. General Terms & Conditions apply.