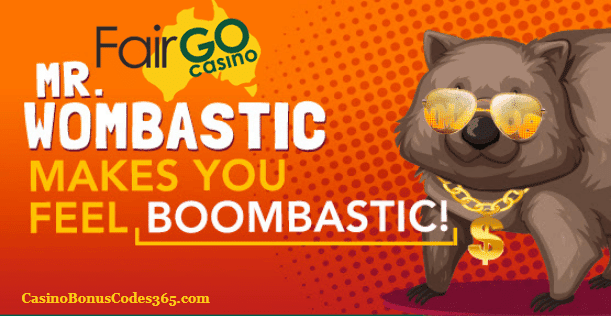 At Fair Go Casino, the coolest Mr. Wombastic is gonna make you feel BOOMBASTIC!
60 free spins on "Bubble Bubble" or $30 free bonus? Mr. Wombastic is letting you to decide what makes you feel more BOOMBASTIC!


How to use the bonuses: In order to take advantage of the deposit bonus, you first need to enter the coupon code in the 'Coupon' section of the casino. You will be then invited to make a deposit. Voilà, the bonus is credited to your account. The same applies to a free bonus, apart from making a deposit.
Terms: The above bonuses have to be redeemed one after another to get the free bonus | No maximum cash-out for Step #1 and Step #2 bonuses| Minimum deposit is $20 | Step #3 gives you the chance to choose between two attractive offers | You may only redeem one of two options in the Step #3 | Maximum cash-out applied to Step #3 bonuses is $200 | Bonuses can be redeemed once only | General Bonus terms apply.